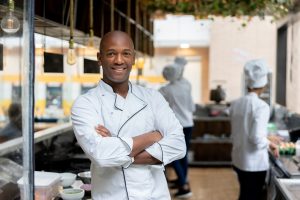 Are you interested in starting a culinary career? Ready to attend school but not sure whether you should get a certification or a degree? You have many options to choose from, that will give you a head start on becoming a cook or chef. Your peers may start from the bottom of the kitchen, washing dishes or busing tables. However, you can get into the kitchen and start working as a line cook or pastry chef and skip the non-cooking kitchen jobs. This can be done at Los Angeles Hospitality Education Center to achieve an education that will build your confidence and prepare you with kitchen fundamentals.
How Do I Start a Culinary Career Without a Degree?
There are plenty of Culinary Arts degree programs in Los Angeles, but it is not necessary to have a degree to start a culinary career. Los Angeles Hospitality Education Center offers a certification program that will prepare you for any job in the kitchen. This program even offers a quick turnaround in the classroom and kitchen, laser focused curriculum, industry experienced instructors and career services to find a job after graduation.
Why Culinary Arts Certificate Over Degree?
There are many reasons to get a certificate in six months rather than to spend 2- to 4- years in college to get a Culinary Arts degree. They include:
A Quick Turnaround
Not all of us can be out of the workforce for more than six months to prepare for a culinary career. You may have personal or family responsibilities that prevent you from attending college for 2 years, and that is ok.
Laser Focused Curriculum
In a traditional college Culinary Arts program, you will end up spending half of your time in elective classes. From English and Math to Science and Communication, you will spend more time in the classroom getting a well-rounded education rather than spending time in the kitchen learning how to become a cook. Los Angeles Hospitality Education Center focuses only on what you will need to start a culinary career, and nothing else. You will spend some time in the classroom learning culinary theory, but most of your time will be spent in a student-run kitchen.
Industry Experienced Instructors
At Los Angeles Hospitality Education Center, we only hire industry experienced instructors that have spent years in the kitchen, running restaurants and leading a team in the kitchen. They understand what you need to succeed in a culinary career. They also have the time to offer personal attention, mentorship in the kitchen and the time to hold office hours to answer any questions you may have.
Career Services
Unlike traditional colleges, Los Angeles Hospitality Education Center has strong ties with the community and may find out about job opportunities even before the general public. Employers know that graduates of LAHEC have been fully trained, built confidence in the kitchen and are ready to be part of a kitchen team. We also offer resume building, interview preparation and job fair attendance to find the job you are passionate about.
What Do You Learn in a Culinary Arts Certification Program?
The Culinary Arts Certificate program offers an introduction to the many aspects of
the food service industry using a direct approach to culinary education. Food production training is complemented by courses teaching essential knowledge such as Sanitation and Safety, Nutrition, Menu and Recipe Costing, and Environmental Sustainability to ensure you are ready to become important team members in the kitchen.
The specific courses you will take during this Culinary Arts Certification Program include:
Introduction to Cooking I
Sanitation and Safety
Production Identification
Introduction to Cooking II
Culinary Nutrition
Recipes and Menus
Environmental Sustainability Practices
Wrapping it Up
Did you know that it can take as little as six months of full-time schooling for you to complete the Culinary Arts program? Los Angeles Hospitality Education Center teaches you what you need to succeed in the kitchen. This includes both classroom lectures and hands-on experience in a student run kitchen. Start working toward a culinary career today and start cooking tomorrow.
Want to Learn More?
The objective of the Culinary Arts program is to provide market-driven
competency-based education delivered by faculty with appropriate credentials and industry experience. This program prepares graduates for entry-level culinary employment with opportunities for advancement in the food service industry.
Contact us now to learn more.