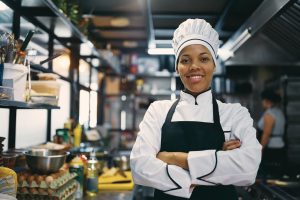 Do you have a passion for cooking? Enjoy the fast pace of a kitchen? If you answered yes, you should consider getting a Culinary Arts certificate.
In this guide, you'll learn all about a Culinary Arts certification, including how long it takes to obtain, and what you can expect to learn in the process. Once you're through reading, you'll have the information you need to take that all-important next step, applying to Los Angeles Hospitality Education Center.
How Do You Get a Culinary Arts Certificate in Los Angeles?
To get certified, you'll need to attend a program at a participating culinary arts school. Fortunately, there are some excellent ones in the LA region, but Los Angeles Hospitality Education Center is well recognized in the LA community as a top culinary arts program.
How Long is a Culinary Arts Program?
Did you know that it can take as little as six months of full-time schooling for you to complete the Culinary Arts program? Much quicker than a 2- or 4-year college, Los Angeles Hospitality Education Center teaches you what you need to succeed in the kitchen. This includes both classroom lectures and hands-on experience in a student run kitchen
What Do You Learn in a Culinary Arts School?
There's more to the culinary arts than just learning how to handle a knife and preparing wonderful meals, although those are certainly part of it.
During your Culinary Arts program, you'll stay abreast of all the current kitchen practices while learning how to use industry-standard equipment. Discussions of food theory and the hottest trends are common.
In addition to guidance from your experienced instructors, you'll receive career advice when it's time to put your new skills to the test. We have contacts in the industry, so you'll have one foot in the door before you've even leave school.
What Classes Do You Take During a Culinary Arts Program?
Your goal is to prepare for a career in the food service industry. Therefore, the program is designed in a sequential manner. Put simply, each module will build upon the skills you learned in the courses you've already completed.
Introduction to Cooking
The name just about says it all: In this course, you'll learn the basic skills and techniques required for simple recipes.
This course keeps a laser-like focus on ingredients and how they interact with one another. The fundamentals and interplay of salt, fat, acid, and heat are covered, along with examples for each. Other topics include refrigeration techniques, industry-standard cooking equipment, and cooking theories.
When you're finished with Introduction to Cooking, you'll know how to prepare homemade stock from scratch. Even better, you'll learn how to incorporate stock and broth into rich soups, tantalizing sauces, and beautiful glazes.
The second level of this course takes things a step further. In this class, you'll cover preparation techniques such as roasting, sauteing, braising, poaching, and much more. Since a different set of rules is required for every food classification, starch, veggies, meat, fish, and poultry, the instructor will offer proper cooking techniques for each.
Sanitation and Safety
Prospective employees who have ServSafe certification are more likely to stand out from the crowd. In Sanitation and Safety, you can prepare yourself for the exam while learning other important habits along the way.
Food safety should be a priority for every chef, even the ones who don't cook professionally. This course focuses on environmental sanitation as well as the fundamental safety practices, so it's a must for any would-be restaurant cook.
Once you've entered the workforce, the last thing you want is for your team to fail a restaurant inspection due to unsanitary practices. Once you're have this training, you'll be an invaluable and indispensable employee, and a leader.
Production Identification
If you don't know a mandolin from a molcajete, this is the course for you. Product Identification gives you a primer on all the critical tools of the trade, starting with the importance of a good chef's knife.
When your instructor teaches you how to handle the various tools and appliances, they'll turn your attention to other vital matters, such as proper refrigeration. Upon completion, you will know how to identify and use an array of kitchen tools, along with the appropriate cleaning methods for each one.
Culinary Nutrition
Not all chefs are concerned with the nutritional value of the food they're preparing. However, the best ones are. Since you're hoping to rise to the top, what better way to begin than by studying culinary nutrition?
After learning the basic principles of nutrition and how it affects our overall bodily health, you'll delve into the nutrients themselves to find out their various functions. This course is important for every budding chef, but the lessons should come in especially handy for anyone who's interested in childhood development or the links between nutrition and psychology.
Recipes and Menus
How do kitchen managers keep food and beverage costs under control? It's an important question, and one that will be addressed in the recipes and menus course.
Calculation plays a role, but cost control is another key factor for food and beverage pricing, as is the convenience of buying in bulk. Therefore, you'll learn about standardized recipes that can be multiplied easily.
Environmental Sustainability Practices
Excess food waste impacts more than just the physical environment. If you don't practice sustainability, there will be economic and social fallout as well. Learn how to be a better chef, and Earth-dwelling citizen, in this useful and fascinating course.
Wrapping it Up
Now that you have read up on the basics, it's time to take the next step toward obtaining your Culinary Arts Certificate in Los Angeles. Since the program lasts just six months, when you make full-time education your goal, you'll be ready to lead a kitchen in no time.
Want to Learn More?
The objective of the Culinary Arts program is to provide market-driven
competency-based education delivered by faculty with appropriate credentials and industry experience. This program prepares graduates for entry-level culinary employment with opportunities for advancement in the food service industry.
Contact us now to learn more.