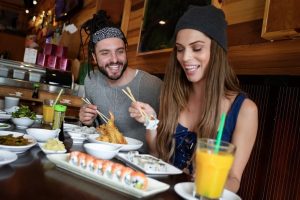 Cooking is an art many enjoy, but only a few can turn it into a successful career. Do you have the time to complete a six-month Culinary Arts program at Los Angeles Hospitality Education Center? If so, consider a career as a chef. Why? It could be the right career path for you for many reasons. 
What are th

e Benefits of Becoming a Chef?
There are many benefits to becoming a chef; they include:
Career Opportunities
Becoming a chef offers a diverse range of career opportunities. From working in restaurants to catering events, becoming a chef opens up a world of possibilities. You can specialize in a particular cuisine or style of cooking, or you can explore different areas of the culinary industry. With the rise of food blogging and social media, there are opportunities to become a food writer or influencer. 
Work in a Fast-Paced, Challenging Environment
As a chef, you will enjoy the satisfaction of working in a fast-paced environment. Working in a kitchen requires teamwork, attention to detail, and the ability to handle pressure. As a chef, you will work with a team of professionals who share your passion for cooking. The challenging environment of a kitchen can be both exhilarating and rewarding as you tantalize the pallets of your patrons. 
Be in Demand
Becoming a chef also offers excellent career prospects. With experience and training, you can progress into a head chef or even open your restaurant. The demand for chefs in the United States is projected to grow 15% through 2031.
Learn New Skills and Techniques
Becoming a chef also offers the opportunity to learn new skills and techniques. Culinary arts students learn the fundamentals of cooking, but becoming a chef requires continuous learning and development. 
Contribute to a Healthier Society
Becoming a chef allows you to contribute to society by promoting healthy and sustainable eating. You have the opportunity to create dishes that are both delicious and nutritious. You can also promote sustainable eating by using locally sourced ingredients and reducing food waste. As a chef, you can positively impact the environment and your customers' health. 
Why Become a Chef in Los Angeles?
Los Angeles is a food lover's paradise. From street vendors to five-star restaurants, the city has something for everyone. For culinary arts students, Los Angeles is the perfect place to explore new cuisines, flavors, and techniques. 
Famous Street Vendors
Los Angeles is famous for its street vendors, serving delicious meals on the go. One of the most renowned street food destinations in the city is Grand Central Market. Here, you'll find vendors selling everything from Japanese cuisine to pastries.
Hot Restaurants
Inglewood has no shortage of incredible dining spots. If you are looking for the hottest restaurants in Inglewood, look no further than Sunday Gravy. A mainstay in Inglewood, Sunday Gravy offers old-school Italian cuisine. If you are looking for seafood, try Coni' Seafood, a Mexican seafood restaurant that prides itself on the freshest seafood.
Ingredients and Flavor
Los Angeles offers many food vendors that provide various ingredients and flavors from different cultures, allowing you to innovate and push the boundaries of your culinary artistry. 
Showcase Your Cooking Skills
You will get exposure and recognition as Los Angeles attracts food celebrities, local food lovers, and tourists from around the world. This platform helps you showcase your cooking skills and make a name for yourself in the culinary industry.
Try Different Cooking Techniques
Whether you want to make sushi or modern vegan cuisine, Los Angeles offers a vibrant food scene where chefs innovate using unique techniques. During the Culinary Arts program at Los Angeles Hospitality Education Center, you will learn about sous vide, grilling-infused dishes, flambe, plus all the traditional cooking techniques that help you create culinary masterpieces.
Final Thoughts
So, the question is, "Do you have six months to complete the Culinary Arts program at Los Angeles Hospitality Education Center?" In addition to a competitive advantage in the restaurant business, you will get hands-on training in a real commercial kitchen. You get the opportunity to learn from your mistakes before working with actual restaurant patrons. Build a solid foundation in culinary arts and become a successful chef with the help of Los Angeles Hospitality Education Center.
Want to Learn More?
The Culinary Arts program aims to provide market-driven, competency-based education delivered by faculty with appropriate credentials and industry experience. This program prepares graduates for entry-level culinary employment with opportunities for advancement in the food service industry.
Contact us now to learn more.